4 Aces Flies a $237,000 Checkered Flag in Sailfish 400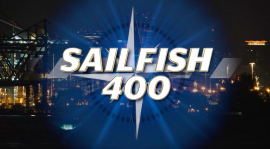 4 Aces Flies a $237,000 Checkered Flag in Sailfish 400
# of Boats: 46 Total # of Releases: 13​0​
Forty-six teams arrived in Miami on January 11th with hopes of waving the checkered flag in the Sailfish 400, leg 2 of the Quest for the Crest Sailfish Series. A slow bite forced the fleet to work harder for their bites and make every opportunity count over two days of fishing. Team 4 Aces did exactly that. Captain Joe Turner and his crew got off to the fastest start on Day 1, releasing five fish before noon off Haulover Inlet to win the Early Bite. They went on to release three more fish that day to take the Day 1 lead and win the $82,530 daily with eight releases. Team OCD held the second place position on day 1 with 6 releases followed by Miss Britt/Contender in 3rd place with five releases. Captain Ray Rosher and his Miss Britt team also managed to snag the 2nd place daily calcuttas on Day 1 and a $40,770 payday.
Despite tough fishing, sizable daily jackpots kept teams in the game on Day 2, knowing that even a few bites could put them in a position to win big money. Team HellREYzer was one of those teams. They blanked on Day 1 of the tournament and answered on Day 2 with six releases to win the daily and finish in 6th overall with total winnings of $97,610. After a strong 3rd place finish in leg 1 of the Quest for the Crest Series, Captain John Dudas and his Sandman fishing team were sitting pretty in the chase for the burgundy jacket and the Quest title. However, they stumbled on Day 1 of Sailfish 400 with only one release. As their grasp on the jacket appeared to be slipping away, they went on an afternoon run on Day 2 to release five fish and catapult themselves into 7th place overall in the tournament to regain the lead for the jacket. They also took the 2nd place daily on Day 2 earning $49,770 in the tournament.
The top six teams at Sailfish 400 were all decided by time, with each of them releasing six sailfish. OCD was not able to add any more releases to their 6 fish catch on Day 1, but they still managed to hold onto the 2nd place spot and a paycheck for $20,000. Local charter boat Top Gun/No Limits caught three fish on Day 1 and three fish before 11 a.m. on Day 2 to secure the 3rd place spot and a $10,000 payout. Team De-Bait-Able finished 4th with six releases and placed in some added value categories to collect a stout check for $67,470 in the tournament. Double Diamond/Saltwater Brewery rounded out the Top 5 with six releases and $7,500 in prize money.
Day 2 was much quieter for the 4 Aces crew with only one release, however, their final tally of nine releases was enough to secure the win in the 2017 Sailfish 400. They say victory is sweet and this one was no exception. They collected nine different checks totaling $237,230 on their way to waving the checkered flag! Christian Adrian of 4 Aces also earned the Master Angler title in the tournament with four releases. Stephanie Choate was the Top Female Angler aboard Miss Britt/Contender with four releases and Billy Carson was the Top Junior Angler aboard Blue Tales with two releases.
Team Utopia didn't conquer the sails liked they hoped to in the tournament, however, they did manage to land a 19.5-pound dolphin and a 54.4-pound wahoo. Both fish were the heaviest weighed within their respective categories and the wahoo was the heaviest meatfish of the tournament, netting the team a paycheck for a total of $23,000. There was no winner in the $122,000 Release Round Up category, so the pot will roll over into the Sailfish Challenge on February 22-26 where it is expected to reach $150,000! The total purse in the 2017 Sailfish 400 was $702,100. In addition to the spectacular payouts, the tournament also helped to raise proceeds for its charity, Driving for a Cause, a NASCAR affiliated charity that helps to raise money and awareness for youth and education programs in Miami-Dade County. For more information on the Sailfish 400 results, visit www.sailfish400.com. For a complete list of the current standings in the Quest for the Crest, visit www.questforthecrest.com. The next leg of the Quest for the Crest Sailfish Series, Sailfish Challenge, will be hosted in Fort Lauderdale on February 22-26. To register for this event visit www.sailfishchallenge.com