The Sailfish Challenge Returns, Now a 2-Day Tournament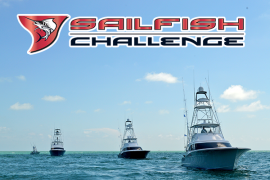 The Sailfish Challenge Returns, Now a 2-Day Tournament
The Sailfish Challenge, the largest sailfish tournament in the country, is returning to Fort Lauderdale on February 17th and has changed its format from a single day tournament to a 2-day competition. Teams will now have the opportunity to move up the ranks during a second day of fishing and a chance at daily prize money that wasn't up for grabs in the previous 1-day format. This is the third stop for the Quest for the Crest Sailfish Series that spans throughout the South Florida coast.
During last year's single day of fishing, a total of 230 sailfish were released between Palm Beach and Miami waters. Teams had the option to depart from three different inlets, Lake Worth, Hillsboro and Government Cut, giving them a chance to reach their preferred fishing grounds at a quicker rate. Miss Annie took off through their home inlet of Lake Worth in Palm Beach and released 10 fish to earn a 1st Place title and a payout of $195,565 in just one day of fishing!
A new optional entry category to the Quest Series, Release Round Up, has rolled over to the Sailfish Challenge with an estimated payout of $70,000. Teams entered in this optional category will have the chance to take home a large check if they successfully move through four rounds of fishing during the tournament.
Another optional category that is sure of a hefty payout is the Big Fish Bonanza. This winner take all calcutta will go to the team that weighs in the largest meat fish at the Sailfish Challenge. Qualifying species are dolphin, tuna, wahoo, kingfish and cobia. Lagniappe took home the bacon during last year's tournament with a 46.7 lb dolphin. That single fish reeled them in a whopping $17,550!
Costa del Mar Sunglasses and The Billfish Foundation have partnered up again to bring back The Release Report Challenge. Anglers participating in the tournament have the chance to win a Costa prize pack and a grand prize entry for a trip to Casa Vieja Lodge in Guatemala. All they have to do is report their sailfish releases to The Billfish Foundation at the end of the competition.
The Sailfish Challenge's chosen charitable donations are once again going to the International Game Fish Association's conservation programs. The IGFA works to promote ethical sport and productive science around the world in order to ensure the future of angling.
Final registration for the Sailfish Challenge is February 17th at the kickoff party, where you can come by boat to the host location at Bokampers Sports Bar & Grill in Fort Lauderdale. Competition days are Friday, February 19th and Saturday, February 20th. The awards ceremony follows on Sunday, February 21st and will once again be held at Blue Moon Fish Company, where there's always an amazing spread. Credentials are required for access to all event activities. For more information on the Sailfish Challenge, visit www.sailfishchallenge.com or call (954) 725-4010.